[ad_1]
Mondo has unveiled a new poster that is currently for sale that pays tribute to Star Wars: A New Hope. The poster art was created by pop culture artist Scott C., and as you'll see, it hits all of the main story points in the movie. Most posters we see for movies like this focus on only one aspect of the story, but this is a very different style, and I think some fans of the classic movie will dig it.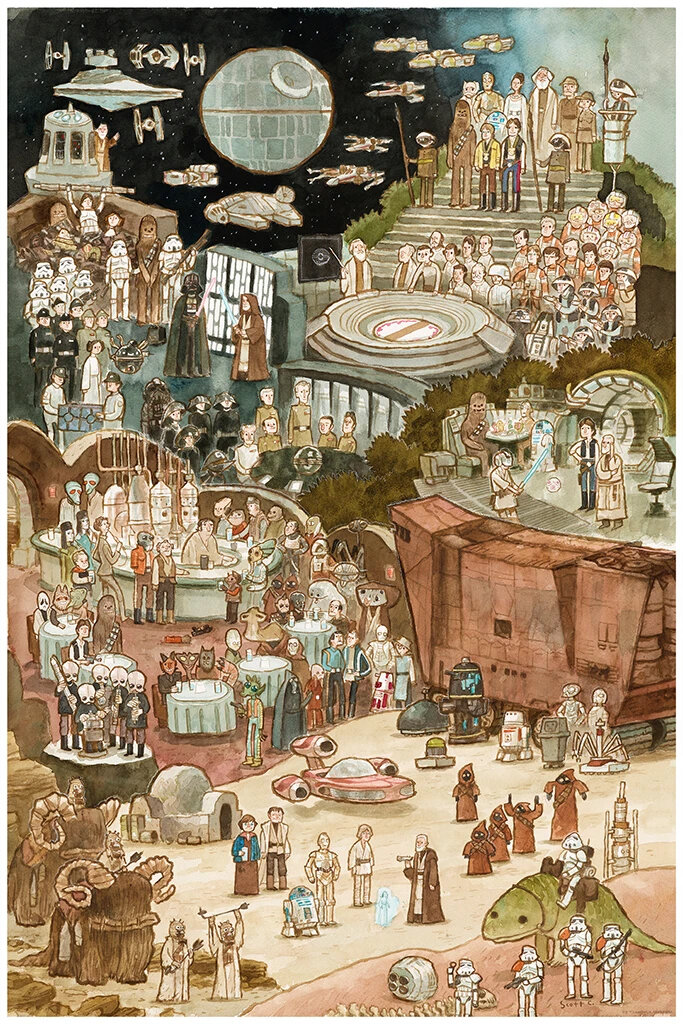 Here's what Scott C. had to say about the print in an interview with Mondo:
"Every square inch of that movie inspired who I am today and the paintings and stories I create. Every character in that film meant something to me, even the characters passing by in the background. It is incredible to me that a film would make that much of an impression on people that fans collectively remember that there was a wolfman and a praying mantis in the bar. I have always wanted to create a painting that paid homage to every one of those characters. That is what this painting means to me. I wanted to include every Cantina patron, every X Wing pilot and Jawa. The ships were all characters to me, so it was important that they were welcomed in the family. It became quite a party, this painting. It is a place I have always wanted to live within. It was a dream realized, my friends, and I invite you to join me in this world."
The poster has a timed edition and you will be able to purchase it until 11:50pm CT on February 9th. If you want one, it'll cost you $100.
[ad_2]