Using virtual reality
In desktop mode, HP's mixed reality headset was a cinch to set up. All you have to do is plug in an HDMI and USB cable. There aren't any sensors to install, like with the Oculus Rift and Vive. Everything on Microsoft's VR platform relies on built-in sensors, instead.
When you put on the headset, you're thrown into the Windows Mixed Reality Portal, which is where all of the VR magic happens. You'll be asked how you want to use your headset: in walking mode, which replicates the room-scale VR we've seen on the HTC Vive, or sitting and standing in place. If you choose the latter, you can immediately start moving around Microsoft's virtual living room and testing out mixed reality apps. If you want to walk around VR environments, though, you'll need to clear out nearby furniture and trace a virtual boundary using the headset first. It's all meant to keep you from bumping into your desk and nearby walls.
Compared to the virtual living rooms from Oculus and HTC Vive, which serve as a home base for everything you're doing in VR, Microsoft's feels comfortable. And even though there are only 60 virtual reality apps in the Windows Store so far, including notable entries like Superhot and Arizona Sunshine, there's still plenty to do. Superhot, feels just as smooth and immersive as it did on the HTC Vive. And since the headset is higher res, everything looked sharper as well. Watching trailers in the virtual screening room almost felt like I was in a theater. And it handled 360-degree videos well. The Star Wars Rogue One behind-the-scenes experience felt just as immersive as other headsets.
Microsoft also wisely partnered with Valve to bring SteamVR over to Mixed Reality headsets. Steam automatically recognized HP's model when I started it up, and I was able to hop into Rez Infinite. After playing for a while, though, it's clear that Microsoft's VR controllers aren't nearly as ergonomic as Oculus's excellent Touch controllers. Hitting the trigger and grip buttons don't feel very natural, and since they have straight handles, they don't fit easily into the natural curve of your hands. Hopefully, that's something Microsoft can fix with its next controllers.
When it comes to HP's backpack accessory, I was honestly surprised how much I enjoyed using it. It made diving into VR more immersive, since I didn't have to worry about getting tangled in any cables tied to a large desktop. Sure, the setup is a bit more involved: You've got to attach the compact desktop, slide in the battery packs, and make sure everything is connected properly. The backpack feels surprisingly comfortable to wear, thanks to its padded shoulder straps and two front straps. The entire setup clocks in at 8.3 pounds, which isn't much more than what I typically lug around every day in my backpack.
While playing Superhot, I was able to dodge bullets and take out bad guys far more easily, since I was free to move and bend in ways I couldn't with a typical VR setup. Of course, there's also the danger of hitting a wall and running into furniture. Even if you set up virtual borders, it's easy to miss those when you're swept up in the game world. And, oddly enough, you can't quickly set up new borders in backpack mode — you can only do it in desktop mode with a monitor attached. So while you can conceivably take the entire VR backpack setup anywhere — as I did around our offices — you're stuck using it without anything to warn you about walls or obstacles.
HP claims each pair of batteries adds one hour of juice to the backpack setup, on top of what you get from its built-in power source. In my testing, 15 minutes of gaming typically used up around 10 percent of battery life. (I wasn't able to stay in VR long enough to drain the batteries completely.) Of course, that timing will depend on what, exactly, you're doing. Sitting back and watching a video, or just browsing the web, could stretch the battery life longer.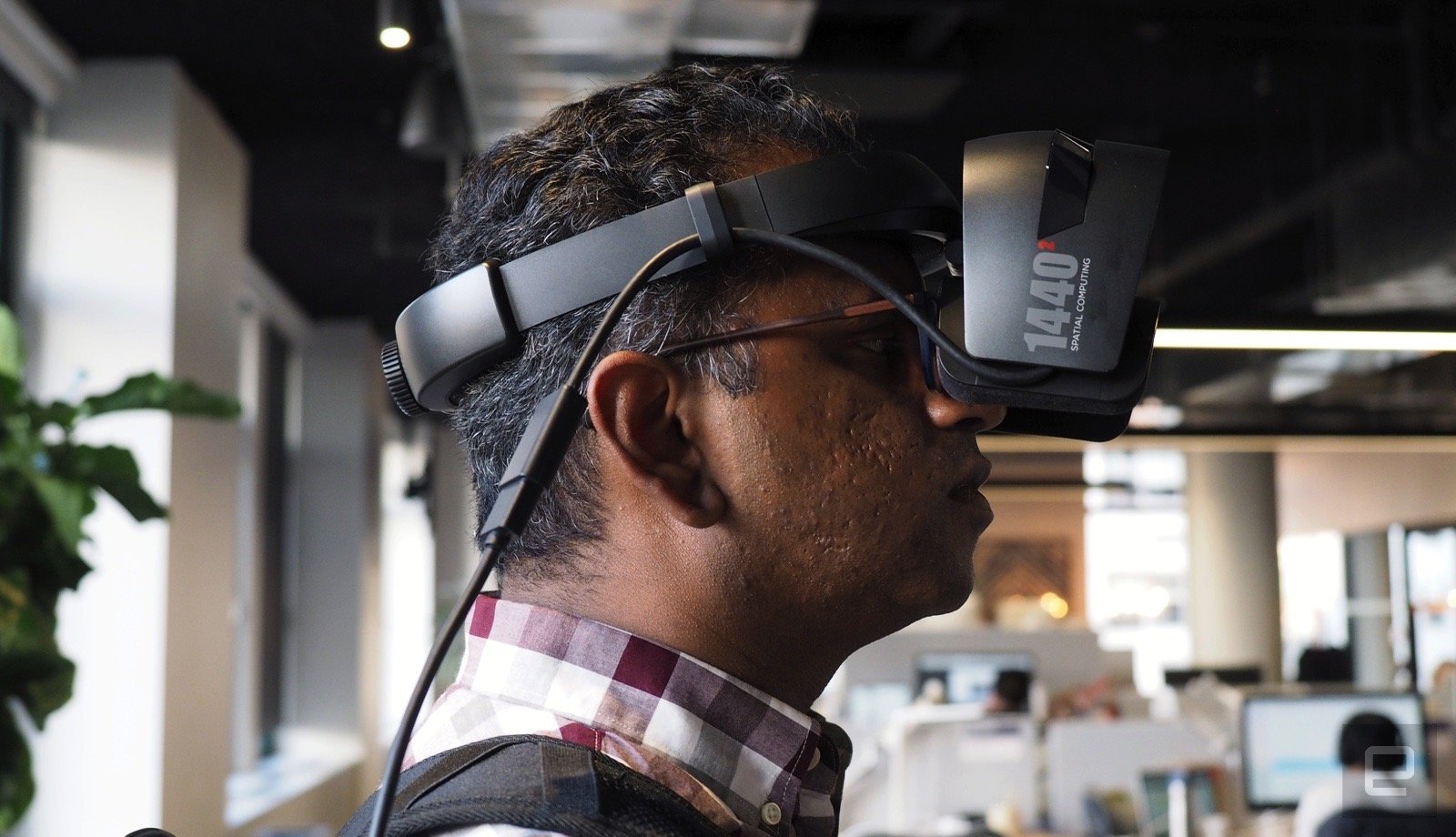 But, I can't help but be a VR backpack sceptic. Wireless VR solutions are already here, and they're only going to get better over the next year. VR backpacks are already an incredibly niche category, but it won't be too long until they're completely unnecessary.
If you want to use HP's headset with the backpack, you'll also have to pick up a $10 virtual display dongle. That's due to an issue with Windows, which simply doesn't spit out an image to mixed reality headsets unless it detects a connected display. While it would make more sense for HP just to include one of those adapters in the box, the company says it's hoping Microsoft comes up with a software fix instead. Oddly, the backpack setup will work fine with an HTC Vive without that workaround.
Pricing and the competition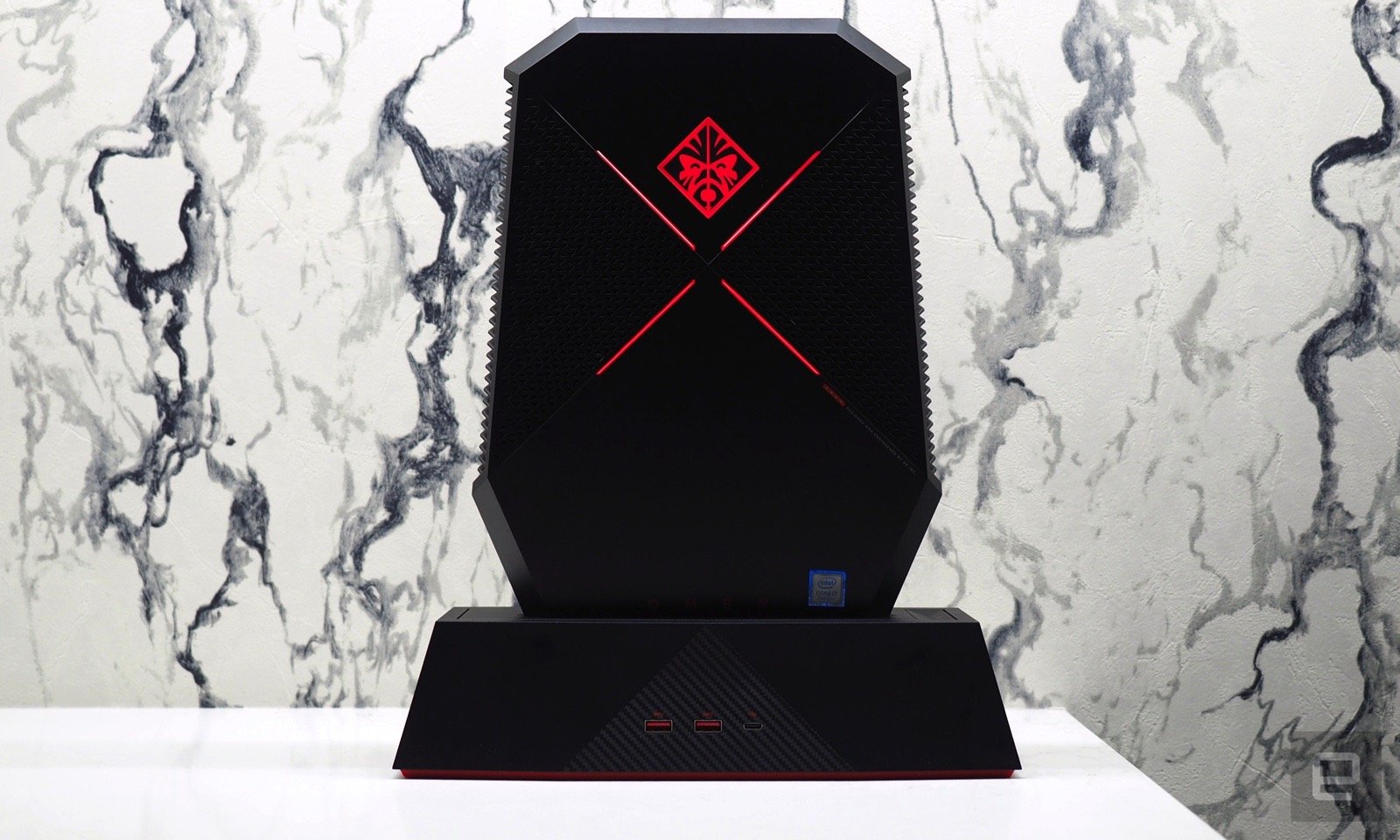 You'd really need a lot of extra spending money to dive into HP's VR ecosystem. The compact desktop costs $2,499, while its mixed reality headset is an additional $449. And don't forget about the backpack, which adds another $499. It's so costly, that it's even out of the realm of many early adopters. It's more suited for developers who want to explore what's possible with portable VR.
There are, of course, other VR backpack options on the market, like those from Zotac and MSI. They're all bigger and clunkier than HP's system, but at least they're not as expensive. Zotac's VR Go starts at $1,800, and it includes both the desktop and backpack accessory. You'll still need to add your own headset, though.
Wrap-up