Theme parks are a wildly expensive business, but that hasn't stopped the biggest ones from building brand-new areas based on blockbuster entertainment franchises. The highly anticipated Star Wars zones set to open at Disneyland California and Disneyworld Orlando in 2019 are examples, and there are the Harry Potter Worlds in Japan, Hollywood and Florida.
The Blizzard World stage is the studio's own interpretation of an entertainment theme park, bustling with rides, shops and restaurants inspired by Blizzard games. In fact, players can only run around a portion of it, as a good two-thirds of its "planned" area is limited to the background or not rendered at all — existing only in the in-game map. To imagine what a real-life version of Blizzard World would take to build, then, we need to do a bit of speculating.
Per the in-game map, painted in the muted watercolor style of Disneyland's original 60s-era attraction posters, there are about 40 named attractions. Some are "E-Ticket" thrill rides like the Hellscream and Blackrock Mountain roller coasters, the Darkmoon Ferris Wheel and (assumedly) the drop tower Tyrael's Fall. Others are restaurants, like the Hearthstone Tavern, or shopping areas like the Caldeum Market and Darkmoon Faire. Players walking in from the "front" of the map are greeted by the looming, massive Stormwind Keep from Warcraft — much like the princess castles at the center of Disney's parks.
It turns out that amusements parks and multiplayer shooter stages have similar design philosophies, Overwatch's assistant game director Aaron Keller told Engadget over email.
"Theme parks, especially local parks in Southern California, inspired Blizzard World as well as all of Overwatch's maps to a certain extent. I've spent a lot of time at various local parks and I've always been fascinated at how well the parks lead visitors from one area to another," said Keller. "Theme parks contain so many lessons for a level designer. Wherever you're in a park there is always something interesting to see right next to you as well as something pulling you around the next corner, ultimately arriving at some incredible destination that was always visible on the horizon, encouraging you to continue traveling."
As for how big the IRL version of Blizzard World might be, Overwatch's lead writer Michael Chu could only guess.
"At least 100 acres, I think? It's hard to say, as Blizzard World's always growing. It'll be done when it's done," Chu told Engadget over email.
The best food in the park
"We had a great time coming up with menu items and snacks for the refreshment stands around Blizzard World. In my opinion, the best food in the park is at Shen's Delights. I did a quick check on the current seasonal menu at Snaxxramas and am happy to share it with you here," Chu said.
Anub'Rekh-omelette
Noth's Special Stew
Loatheb's Creamy Fungal Bisque
Kel'Thuzad's Plague Biscuits and Gravy
Zombie Chow
Spore Ribs
"Head chef Patchwerk puts a lot of importance into working with local farms and ingredients on its menu, and so I'm proud to say that everything served is harvested by Gothik," Chu said.
The original Disneyland was reportedly built on 160 acres of orange groves bought by Walt Disney. But a comparable real-world park might not be Disneyland, according to John Gerner, managing director for amusement-park-consulting company Leisure Business Advisors.
"Although this imaginary theme park has Disney-like theming, it appears to have conventional rides and activities (such as an arcade)," Gerner told Engadget over email. "Cost would, therefore, be based on scale, capacity and country. A role model could be a Legoland theme park."
Legoland's parent company Merlin Entertainment builds its parks, which today require an investment of over 30 billion yen (or around $275 million), according to the Nikkei Asian Review. That's possibly what it cost to construct the latest Legoland in Japan, which opened in April 2017. That park targeted 2 million visitors during its first fiscal year, and according to a 2011 research paper by University of Central Florida's Kelly T. Kaak, the industry rule of "invest $100 per customer you expect to serve in the first year" is actually more like $109.61 per anticipated guest.
So, if Blizzard World were to anticipate 2 million visitors in its first year, Blizzard could reasonably spend a low estimate of $219 million building the park. That's a more manageable goal than trying to compete with the original Disneyland off the bat, which welcomed 17.9 million visitors in 2016, according to the Themed Entertainment Association's annual report. But there's no denying that it's more expensive to secure land in prime locations for a theme park these days.
When Disneyland first opened its doors in 1955, it only cost $17 million to construct (or about $156 million today, adjusted for inflation). The price to erect Shanghai Disneyland, which opened in mid-2016, was $5.5 billion. Even the upcoming Legoland located a few hours north of New York City is expected to cost $500 million to build.
A Blizzard World built today would face fierce competition. A March 2017 report from The Park Database pointed out that less than 10 percent of amusement parks worldwide take in over 80 percent of all the industry's revenue. Disney's and Universal Studios' locations in Southern California, Florida and Japan are the only ones taking in over $1 billion in revenue annually each, while the average for a Legoland park is $114.7 million. In other words, don't expect to build a new park and reach Disney's level of success.
But Blizzard has something that other small parks don't: A roster of popular entertainment franchises with serious recognizability in certain global communities. This is a big advantage for Disney and Universal at the top of the theme-park food chain:
"For both Disney and Universal, their theme parks are a location-based delivery system for the rest of their media business," The Park Database report stated. "Both brands of parks are owned by media and entertainment conglomerates with television, movie and other media properties that allow cross-pollinating … business models between their theme parks and the rest of their assets."
Blizzard doesn't have characters as internationally famous as Mickey Mouse, Luke Skywalker or Harry Potter. But it does have four successful flagship franchises, all with very recognizable characters that resonate with fans: Overwatch's popular female hero, D.Va, became a symbol for a feminist group in South Korea, whose members brandished her logo at last year's Women's March. That game's team has released a dozen short animations that have racked up between 9 million and 22 million views apiece, which are of such high quality that they look like dry runs for a Pixar-level feature-length film. And while the Warcraft movie underperformed domestically when it opened in mid-2016, it had the largest foreign-language debut in Chinese cinema history, taking over $150 million during its first weekend. Blizzard's non-gaming content is popular all over the world.
Would fans come to Blizzard World? Since 2005, tens of thousands have made the trek to the annual Blizzcon weekend in Anaheim, California; last year's brought a record 35,000 fans to the city's convention center, which is a block over from Disneyland. They come to get hands-on access to unreleased game content, watch pro-level tournaments and see Blizzard execs and team leads tease announcements for the next year. But they mainly come to join thousands of other equally hyped fans in an environment packed with statues, tapestries and swag from Blizzard's lineup of games.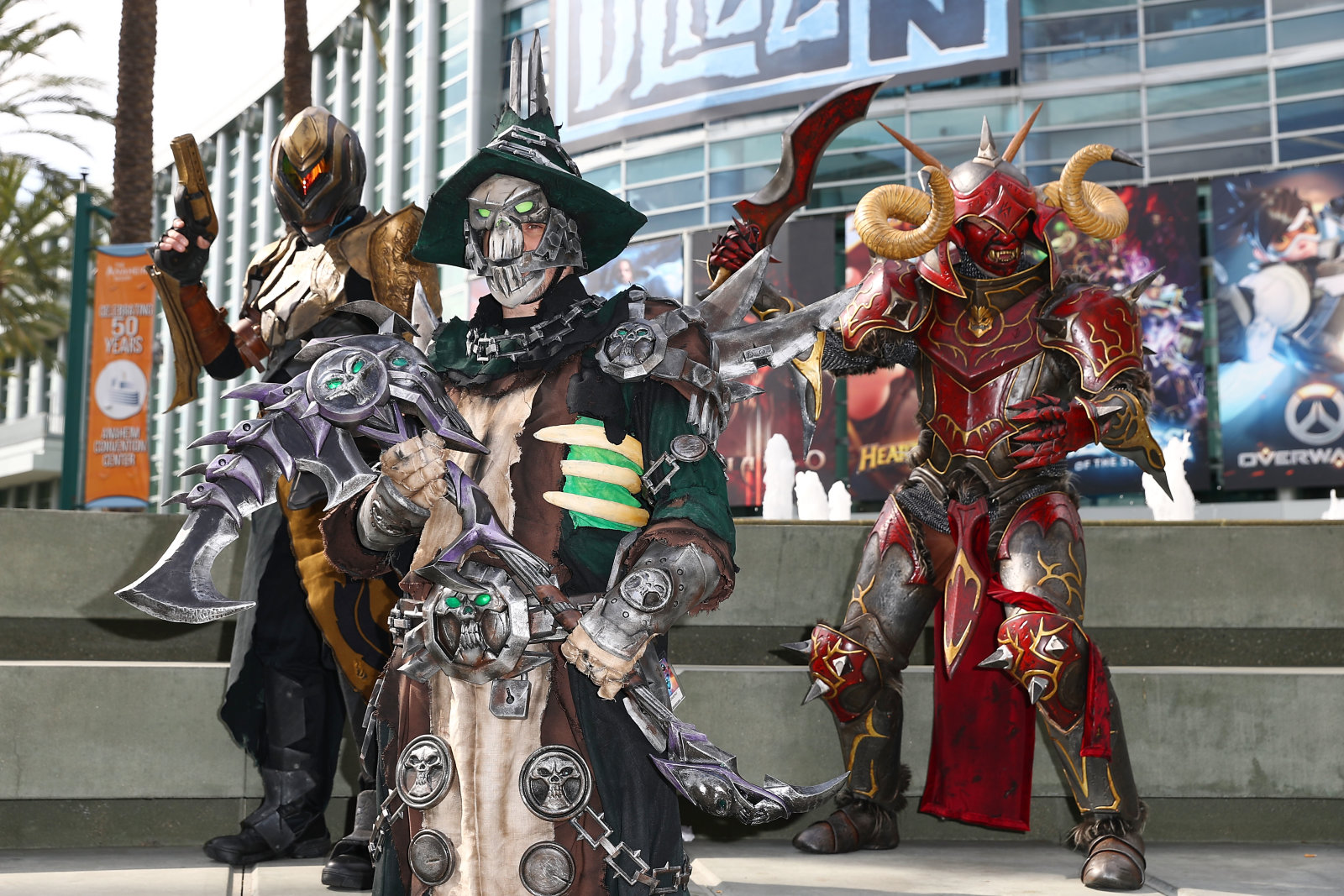 Blizzard World, of course, is a love letter to those fans, a fantasy zone filled with the locations, props and references only veterans of Blizzard's oeuvre will understand. Who knows if any executive seriously considered the Overwatch stage as a blueprint for a real theme park. That said, the company did hold a fan art contest for a "Blizzard World" back in 2009, while the studio's concept artist Peter Lee had reportedly sketched out his own version of it while developing the abandoned MMO Titan.
How much are Blizzard World's daily operating expenses?
"Luckily, in the world of Overwatch, there's ready access to clean power (similar to the power supplied by LumériCo), which means that in some areas Blizzard World is quite efficiently operated," Overwatch lead writer Chu told Engadget. "I don't have the exact figures in front of me, but I did a quick tally on the cost of the attractions in the StarCraft expansion to the park, which came out to 1,800 minerals and 275 vespene gas. You'd have to check with accounting, but that seems like a bargain to me."
A real park wouldn't be Blizzard's first permanent location built to entertain fans, either: The studio has two esports arenas; the first opened in Taipei in March 2017 and the second in Los Angeles. Those locations help spread the Blizzard brand and sell merchandise, which are both things that theme parks do well.
Blizzard has spent a lot of money willing the Overwatch League into existence and building arenas to promote its games as viable esports contenders. Given parent company Activision Blizzard's large revenue ($1.8 billion in Q3 2017 alone) and range of creative properties, it's not a stretch that something like a theme park could be viable.
But if they do, they might want to hurry up before a rumored knockoff park in China beats them to the punch. Or, for a little money up front, Overwatch's associate game director Keller could get started now.
"One of the really fun parts of working on Blizzard World was the amount of ideas that the team and the rest of Blizzard contributed to the map," Keller said. "If you would be so kind and offer me a small personal loan of several billion dollars I'll start working on a really solid design for the actual park straight away. I'll put everything into it that we've imagined. It would be so awesome!"