"In the beginning they're fairly symbiotic, and then there's a lot of challenges that happen that kind of start to pull them apart," Krankel said. For example, he continued, Milo and Lola are provided a demon, Sister Mary Wormhorn, to help them navigate the city, and she's able to show them elements of their past.
"You might be walking out of a bar thinking you completed a quest, and you walk out the front door and you actually get teleported into a psychedelic recreation of Milo's 6-year-old birthday," Krankel said. "Like really crazy shit that digs into the aspects of their friendship. And things that, you know, what do friends do that they think is in the best interest for another friend, but in some ways they lied to them in the past? A lot of that we kind of tease on."
There are two parallel narratives in Afterparty: one where Milo and Lola are focused on drinking their way back to life, and another where they're dealing with betrayal, lifelong lies and a fracturing friendship. Basically, it's hell.
"On the surface it's just a fun romp through hell that's very non-linear, and players determine how they get through it," Krankel said. "But by the end of it, we hope people get misty."
Night School has proven its prowess in heart-wrenching game design. After the success of Oxenfree in 2016, doors opened for the studio. Publishers reached out about future projects and Krankel, studio co-founder Adam Hines and the rest of the team started dreaming big.
"We were talking about building a much, much larger game than Oxenfree," Krankel said. "And we got to the point that we were like, we just want to control our stuff as much as possible. It's not like we're anti-publisher, it's just more like we know that Oxenfree wouldn't have thrived in an environment where our small group wasn't making every decision, from the story all the way through how we market it and stuff. And so for Afterparty, we tried to be really careful in our risks."
Afterparty is a clear evolution of Night School's aesthetic and its approach to business. The game is developed, published and marketed in-house, and it builds on a solid narrative and mechanical foundation laid out by Oxenfree. Plus, the project has attracted renowned voice actors including Ashly Burch (Aloy, Horizon Zero Dawn), Janina Gavankar (Iden Versio, Star Wars: Battlefront II) and Dave Fennoy (Lee Everett, The Walking Dead).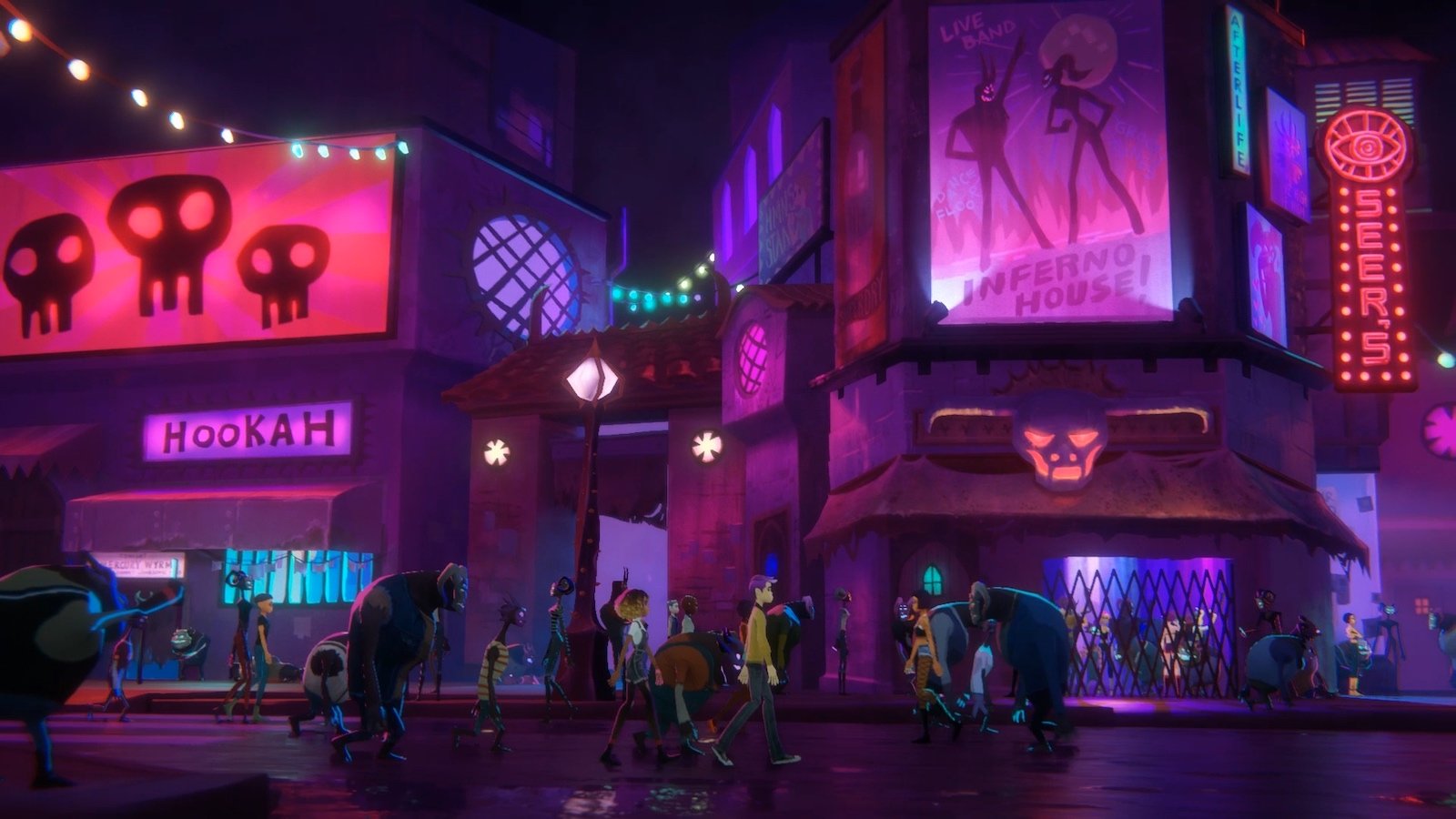 Without a publisher and with plenty of self-generated momentum, Krankel and co. are free to think about the things that matter, like making Lola and Milo's relationship as true and as powerful as possible.
"It's something that was in Oxenfree, too," Krankel said. "Just like, how do you showcase history with people, but in a way that the player doesn't feel left out? How do you surface it and make some of it feel very specific to them, but other aspects just be very universal? So like, specific aspects of their lives we want to surface through why they're in Hell in the first place — which we have not told people — and stuff like that. But the broader strokes of this type of relationship, a lot of people can relate to."
Images: Night School Studio